Sanah is an artist who is more and more widely known in Poland. In many reviews we can read that she is extraordinary, a true perfectionist and a real revelation on our music scene. It is enough to read the comments under her recordings on YouTube to notice how many emotions her music evokes. The question is, what emotions does the artist convey to us through her debut album in her lyrics?
Sanah, a new album and singing about love. It's mostly negative, but…
Songs are all about emotions. Is it necessary to prove this thesis? It's enough to turn on the first radio. Each song that we hear is a conglomerate of the most different feelings. Music is a transmitter and catalyst of a wide range of emotions. Its creators use this power with more or less premeditation. Not without a reason music critics divide songs into "love songs" and "break-up songs".
There's no denying that only those songs that stir the emotions of multiple generations enter the cultural canon. The inspiration to write this short analysis was the noticeably growing popularity of a young singer. We decided to examine with emotion analysis tools the degree of emotional arousal and the intensity of sentiment – negative and positive in the artist's lyrics. We arranged the songs according to the tracklist of the album "Queen of Dram" (excluding what is instrumental on it). What is striking? Above all, it is the above-average intensity of emotional arousal.
It stays between 55 and 85% throughout the whole album. This is a lot, as 50% is the limit. The chart shows how the arousal develops while listening to the album, we arranged the songs according to the order on the disc on purpose.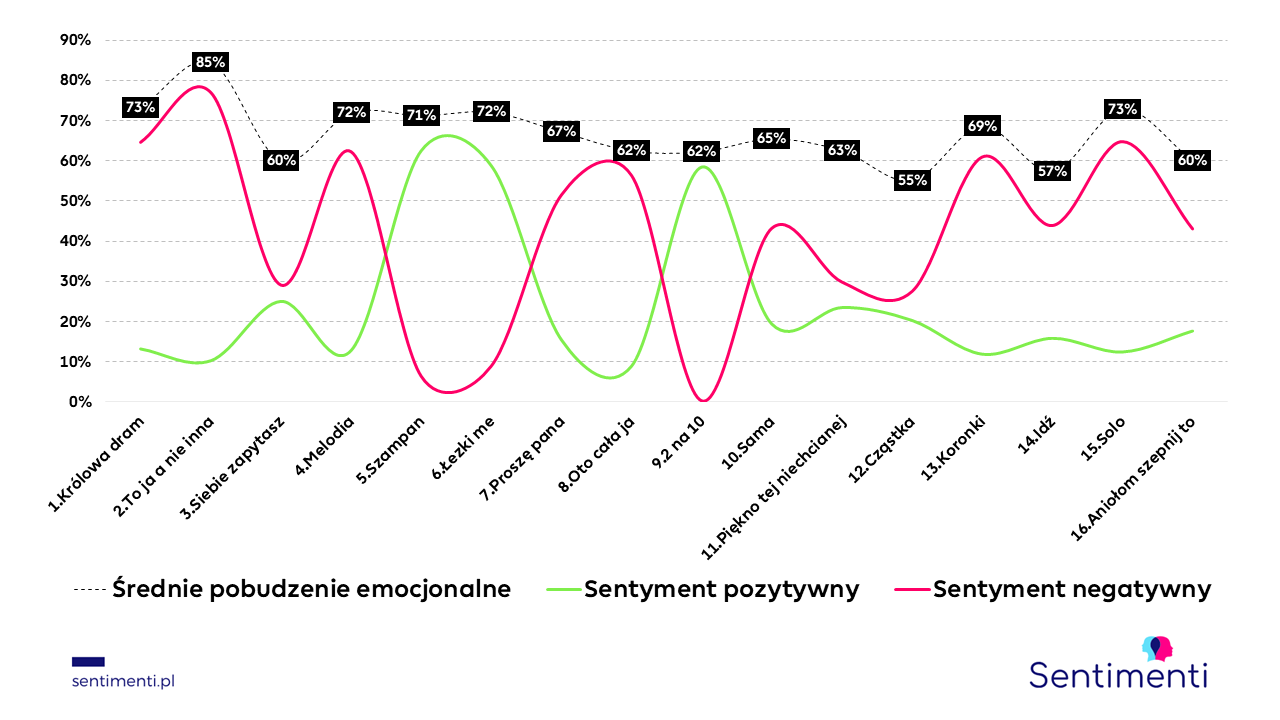 The correlation of the emotional arousal of Sanah's lyrics can be seen mainly in the negative sentiment. The last four songs on the album are basically just negative sentiment. With a bit more positivity we only have to deal with the hits i.e. "Champagne," "Tears of Me" or "2/10." It is worth remembering, however, that we have both favorable and unfavorable sentiments in one lyric.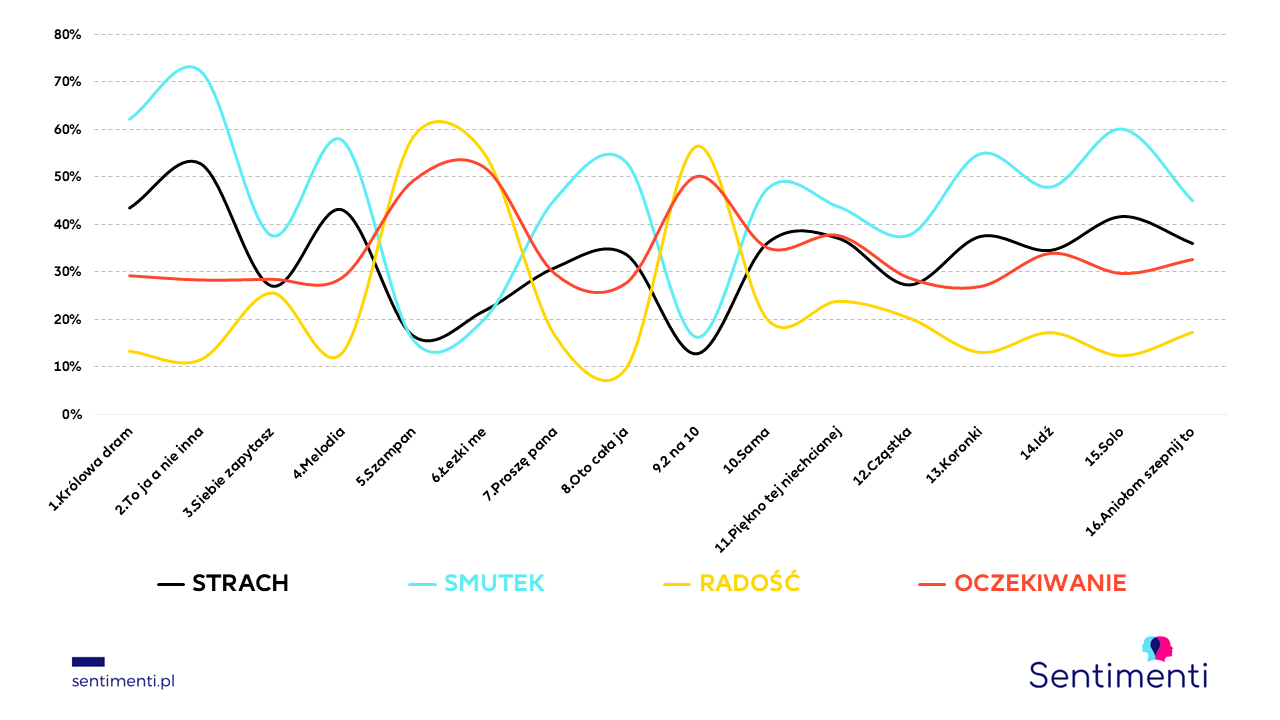 When breaking down the lyrics by emotion, we see that sadness and fear interspersed with emotions related to anticipation dominate throughout the album. An analysis of the specific statements made in Sanah's lyrics in relation to negative emotions (red, associated with anger, sadness, hurt or unhappiness) and positive emotions (associated with goodness, happiness and beauty) also tells us more. Key words for these extreme attitudes below:
There is an interesting comparison for the songs in terms of the number of words included in Sanah's lyrics by emotion. We examined how many of them are associated with hurt and unhappiness, and how many with happiness and trust. You can see how mixed the texts are and how many different, often extreme emotions they present. In this case, we helped ourselves with solutions created by Common Language Resources & Technology Infrastructure.
Moving, shrugging. Does emotion produce popularity?
To sum up this short analysis, it is safe to say that no song disappoints the listener and strong emotions emanate from each one. Perhaps that is what is behind Sanah's popularity. It is no secret that music evokes emotions and is a tool for building popularity. Some songs are listened to to turn up the feeling of falling in love, others are listened to to ease the pain of a breakup… Lyrics, as well as music itself, are perfect for generating and boosting emotions depending on the mood of the audience.
This is actually the first time we have examined song lyrics. So far, we have already analyzed series, movies, commercials, and even internet discussions. All of these have something in common – they are meant to evoke an emotion and then a reaction.
Is this the case with Sanah? We may risk such a thesis, because the strength of a message is measured mainly by how strong its emotions are. Which in the case of the young singer is more than enough. We've barely finished writing this text, and Sanah has just handed us another single – "God damn it". The star's new album is coming out soon, and you can already listen to Sanah's new single – 2:00. When is Sanah's new album – Irenka? Already on May 7.