Behavioral analysis for professionals
Emotions affect the rates of financial instruments, and rates affect portfolio management strategies. SentiStock will support you in your investments with regular and accurate predictions. For financial markets (currently cryptocurrencies, especially Bitcoin). We analyze all the texts available on the web for the emotions they contain and correlate them with stock quotes.
Emotions rule the market. We use Sentimenti tools to automatically study emotions. That's why we focus on behavioral analysis of investment decisions. We extend the investor's analytical capabilities to investor sentiment, until now used incidentally or intuitively and to a small extent. Similarly, as in the most well-known investor sentiment indexes, we monitor fear and confidence, but including all emotions in the model greatly increases its accuracy. Knowing the emotions surrounding a company, brand or cryptocurrency, we can forecast rates or sales performance.
Offer for retail investors
From September 2019, we offer the TradingBot service for the BTC-USDT cryptocurrency pair on the Binance exchange. You can find the results achieved by the bot and the possibility to purchase the service on the dedicated Sentistocks page.
Offer for institutional investors
If You are an institutional investor, contact us and start analyzing the sentiment of other investors. We offer services in the form of individual reports, issuing information in the form of API or daily signals.
Case Study | Warsaw Stock Exchange
Sentimenti with an efficiency of 87.1% (correctly) predicted trend directions for a representative sample of companies on the WSE's main floor (40 companies).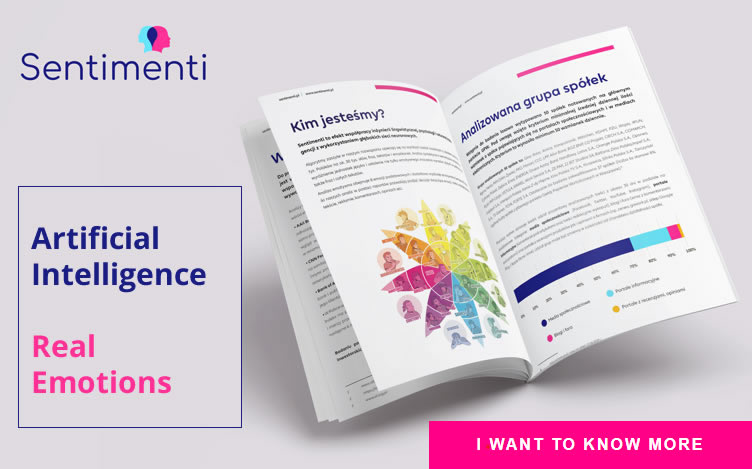 Learn more
Take a look at our blog. You will learn there: