Product reviews are extremely important for businesses. It doesn't matter if it's a local small business or a large conglomerate. Every business wants to climb to the top of the rankings on Google and inspire consumer confidence. It also wants online reviews to be only positive.
Product reviews and their value to your business
Product and service reviews that we come across online are very desirable for a business. They are the ones that increase search engine visibility and improve SEO. They also help build consumer trust and boost sales and conversions. They're also a big advantage over the competition, as long as their content evokes positive emotions. The statistics speak for themselves. Reviews saturated with positive emotions can generate a lot of revenue. Products with an average rating of 5 stars receive up to 126% more orders than those with four stars.
On average, consumers read up to 10 online reviews before trusting a product or company. Up to 32% of consumers visit a company or product's website after reading a positive review. SEO and SEO experts agree on this – generating online reviews is one of the top three best performing factors. 82% of consumers read online reviews of local businesses.
These reviews can provide the impetus for choosing between our company and a competitor. Online product reviews not only give consumers insight into the pros and cons of the products and/or services offered. They are also a great way to attract potential customers.
Online reviews and testimonials? The more of them, the better
While consumers will read many reviews before a brand inspires their trust, timing is crucial. Nearly half of consumers will only pay attention to reviews that have been written within the last 2 weeks and not a day more.
For many local businesses, the best place to build a review presence will be Google My Business. If you are dealing with a typical e-commerce business, you can build a profile on Trustpilot. Those in the hospitality industry can check reviews on TripAdvisor. Reviews can also be found on Facebook, Ceneo, GoWork and many other portals.
Analyzing online reviews, or what if there are already some?
You can do many things with online reviews. In addition to presenting reviews on your website, you can simply analyze their content and draw deeper conclusions. This allows you to go beyond star ratings and take your business to the next level.
Reviews can be a great source of information about your business or product. By analyzing the most common complaints about products, you can make improvements that will keep customers happy. The company through this will have better reviews in the future.
Review analysis, or the study of consumer emotions
Online reviews are an essential part of any business hoping to make a positive mark online and build consumer trust. Consumer reviews can be used to enhance brand reputation and improve services.
As an example, we used our tool to study emotions, arousal, and sentiment on several sample products. We took data from ceneo.pl from the last year.
The products were chosen quite randomly after taking into account only one parameter – a larger number of opinions in order to make the data representative. The group of tested products included several random phones, headphones and a water filter cartridge, cosmetics, medicine and a scooter.
Apple AirPods 2 white (MRXJ2ZM/A)
BRITA Maxtra Plus 5+1 pcs. Filter cartridge
Apple iPhone 11 64GB Black
Apple iPhone 11 Pro 64GB Star Grey
Chlorchinaldin VP 20
Xiaomi Mi Electric Scooter M365
Long 4 Lashes Eyelash Growth Serum 3ml
Xiaomi Redmi Airdots Black
Samsung Galaxy A40 SM-A405 64GB Dual SIM Black
Xiaomi Redmi Note 8 Pro 6/64GB Gray
Xiaomi Redmi Note 8T 4/64GB Blue
These are probably not all reviews of these products, but this is mainly an example of a survey and how to analyze content from consumers. Below are the results: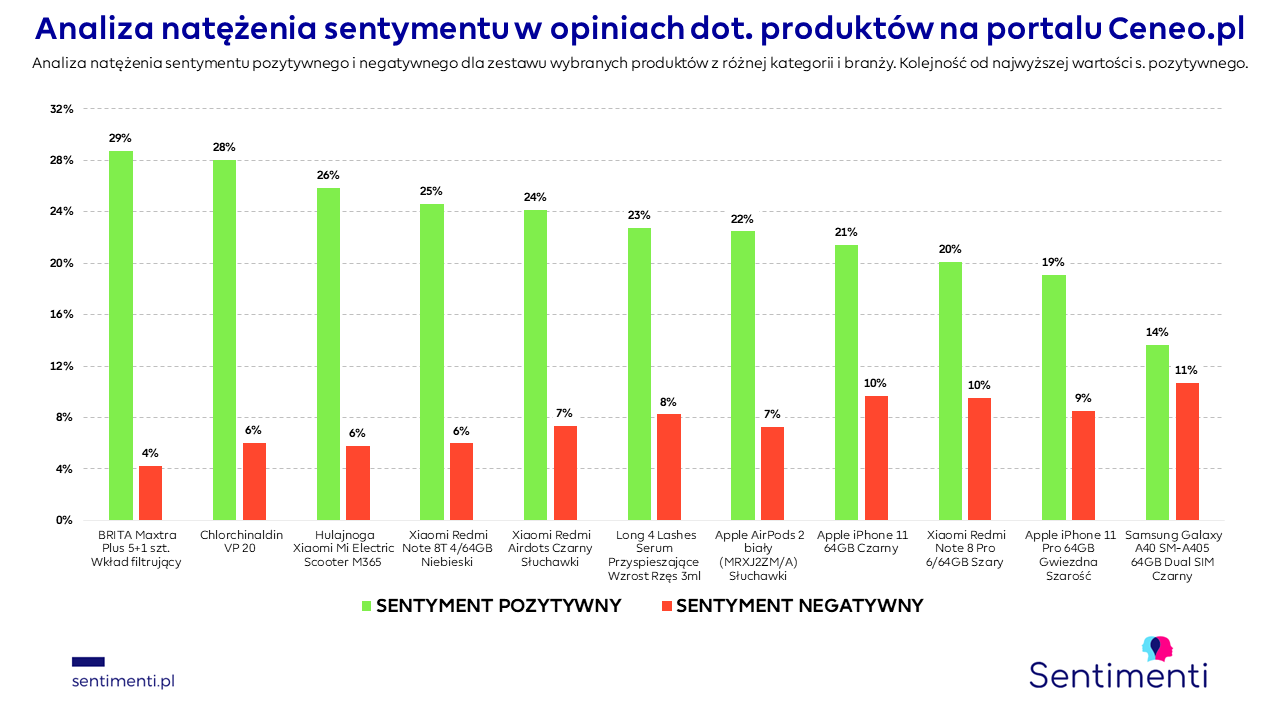 As can be seen, the Brita Maxtra product received the highest intensity of positive emotion and favorable image sentiment in this analysis. In the group of randomly tested products, the Samsung Galaxy A40 received the worst score. The order of products was arranged according to the value of positive sentiment – from highest to lowest.
An analysis of the intensity of joy, trust and anger in the surveyed opinions shows that non-technological products (phones, handsets) have joy and trust much less. Phones are characterized here by more criticism. When it comes to emotional arousal, i.e. the strength of emotion and the type of words used to express it, the best performer is Chlorchinaldin VP-20, and the worst – again – is Samsung Galaxy A40. This may mean that the criticism was not so strong in the case of this device, but it outweighed the positive emotions.
Selected negative with highest anger intensity:
Unfortunately, the headphones COMPLETELY do not stick in the ears, no matter what kind of covers you use, and the second day one of them fell out of the ear and got lost. DO NOT RECOMMEND. 200 PLN thrown down the drain.
Impressed by the positive reviews, I bought them at a low price. Very stable hold in the ear, have a nice case but that's actually the end of the advantages. The manufacturer did not include any instructions so I had to reach for "tutorials" and "unboxingi" on youtube. In vain – the left earphone did not want to pair with the right one. It is worth knowing that the left handset connects with the right one and the right one connects with the phone. Several reset attempts did not help.
Chinese fakes. The headphones cannot be paired with each other, despite following many instructions from the net. Both headphones are detected as right. No instructions in the box. No cable.
100% counterfeit I own the original and from this store. These fakes are not even 50% of the capabilities of the originals. I do not recommend
Selected negative with highest joy intensity:
I have been using Brita for a long time. I stopped buying water at the store (especially in plastic) a long time ago. We have great quality tap water. After pouring it through the brite I am at peace with the quality. I recommend it to everyone. Great product.
Very good quality. Son satisfied. I recommend
Good quality product, fast delivery, everything is fine – I recommend 😉
I bought it for a gift. My boyfriend is very happy and praises it. I recommend
As you can see, Sentimenti tool analysis allows you to not only examine the emotion saturation of review content. It also allows you to quickly categorize reviews into positive and negative. This process gives quick (in just a few minutes) and precise results. The above sample survey is just a prelude to further in-depth analysis. This type of research is done by Sentimenti team as a part of SentiBrand service.